Molitor Story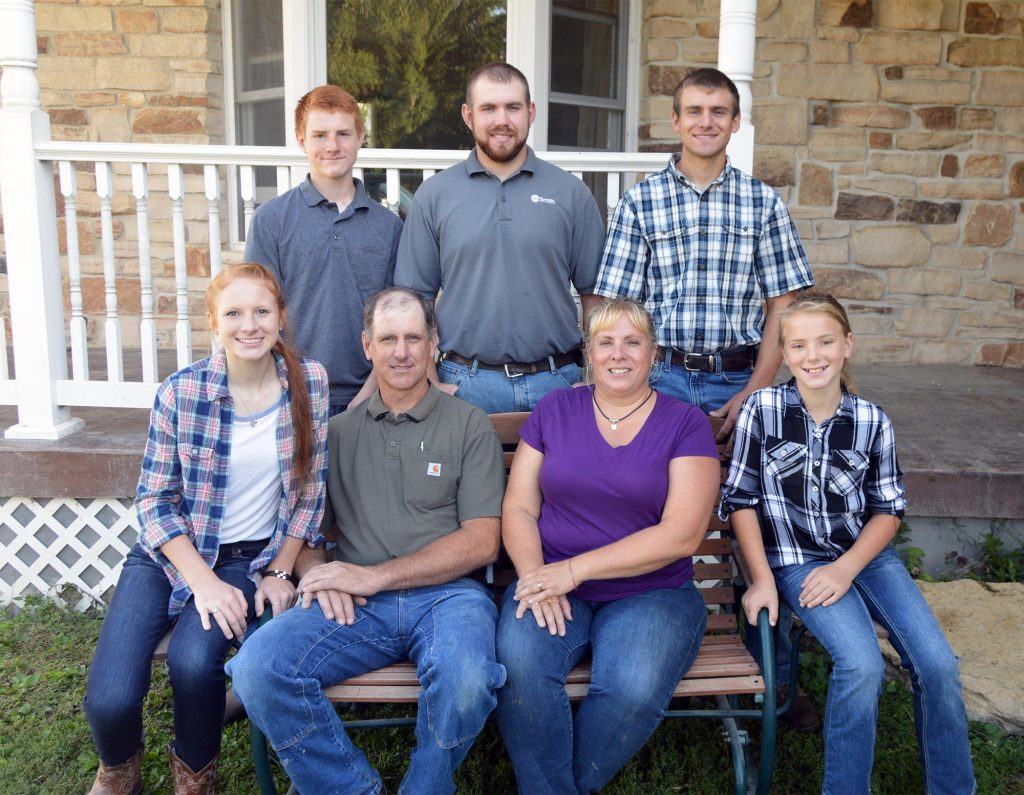 The best way to learn every aspect of farming is to grow up in a working farm family. Janet and Ted Molitor had that opportunity as their respective families operated grain and livestock farms in Naperville, Illinois.
"You learn from the ground up what farming is all about," Janet said. "Our families raised livestock for family and friends, including on-the-farm butchering. Ted was raised on a dairy farm, then turned to farrowing and finishing hogs and raising lambs and chickens on his family's farm in Naperville." Janet continued, "Our family also raised chickens, beef, lamb, and other poultry. We both learned crops from planting through harvest, how to operate farm equipment and do the endless daily chores around the farm."
Ted used that hands-on experience to begin work as a plumber in Naperville, serving the Chicagoland area and eventually started his own successful residential and commercial plumbing business in Naperville. Janet and Ted were married in 1991.
As the Chicago suburbs expanded and farms were sold for sub-divisions, the Molitors looked westward in 1991 toward the fertile fields of Jo Daviess County and purchased a farm near Stockton, Illinois. By 1993, they moved from Naperville to the farm and added livestock while Ted has continued his thriving plumbing contractor business to this day!
And thriving is probably the best way to describe the Molitor's five busy children. "All of our kids share our love and passion for agriculture," Janet said.
Jacob has received his Associates degree in Agriculture. Adam has received certification in Business Management and both work on the farm and in the plumbing business. Megan is a senior in high school and active in FFA and 4H with a genuine love of animals. Ryan is in high school, also a member of 4H, and enjoys helping in the fields. Kaylee is in the 6th grade, a 4H member, and shares her sister's love for working with the animals.
A farming transition
Farming in the Midwest has been changing over the last 25 years. Technology in seed, soil maintenance, planting, harvesting, and equipment has advanced dramatically to help farmers learn a better way to put food on America's tables.
"As we purchased and expanded our farming operations to include a beef herd and chickens, we began to notice a difference in the quality of taste and appearance of pasture-raised livestock, as compared to those raised in confined farming operations," Janet explained. "We conducted extensive research with vendors through seminars, trade shows, and online to learn more about the advances being made with modern biological farming methods."
Biological farming includes the science of soil nutrients and its beneficial effect on crops, the use of non-GMO seeds, and the added benefits of foliar fertilization. It also requires a careful reduction of potentially harmful pesticide chemicals and the elimination of animal growth hormones and antibiotics.
"We've been incorporating these biological farming methods over the last 15 years," Janet said. "We're always looking for a better way to grow healthy crops and healthy livestock. Families need to know that their food has been naturally and ethically produced."
Today, Molitor Farms grows 1,200 acres of cereal grains and offers tasty Piedmontese Beef, juicy Heritage Berkshire Pork, and plump Cornish/Rock chickens – all pasture-raised and finished for your family's dining pleasure. Welcome to our website!
Developed by Modern One Marketing